Experienced Motorcycle Accident Attorney Protecting California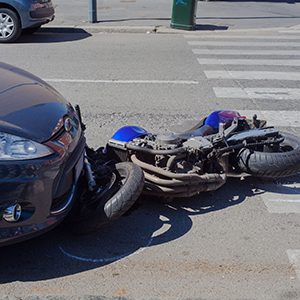 If you have been involved in a motorcycle accident in the State of California and have sustained serious injuries as a result, you may consider speaking with an experienced motorcycle accident attorney. This is especially true if you believe the other driver involved in the accident was behaving negligently or if your insurance company is not honoring your claim. Your personal injury lawyer can review your case and help you recover the damages to which you are entitled.
Your Helmet
Only about 3% of licensed motorists in the State of California are motorcyclists, but motorcyclists are involved in about 9% of all motor vehicle accidents. Additionally, motorcyclists are much more likely to be severely injured in accidents; cars and trucks obviously provide much more protection for drivers and passengers than do motorcycles. These critical injuries often involve permanent disfigurement and scarring, brain damage, or paralysis. Unfortunately, in the vast majority of accidents involving automobiles and motorcycles, the driver of the car is responsible. Usually the driver fails to see the motorcyclist when they are making turns or changing lanes.
We Can Help
If the other driver is responsible for your accident, we will petition their insurance company for the maximum amount of liability possible to cover medical bills and, if necessary, the cost of continued care. Once this sum is reached either through litigation or settlement, we will then deal with your own insurance company in an attempt to collect compensation through your uninsured/underinsured motorist coverage for the remainder of the damages. As a last resort, we can help you file a lawsuit directly against the other driver and attempt to levy their assets on your behalf.
After a severe motorcycle accident, your focus should be recuperation, not spending your time talking to hostile claims adjusters. Let your experienced motorcycle accident attorney act aggressively on your behalf and handle the complexities of insurance law and regulation for you.
The Law Offices of Timmons, Owen, Jansen & Tichy Inc. provide motorcycle accident assistance to clients in Sacramento, San Andreas, Davis, Yuba City, Woodland, and the surrounding areas. Call (916) 444-0321 now to schedule your initial consultation.